Ingredients:
400g boneless and skinless chicken breast fillet, thinly sliced
1/2 cup cashew nuts
1 red bell pepper, thinly sliced
1 green bell pepper, thinly sliced
1 medium-sized onion, thinly sliced
3 cloves garlic, minced
2 tablespoons vegetable oil
2 tablespoons soy sauce
1 tablespoon oyster sauce
1 tablespoon fish sauce
1 tablespoon sugar
1/2 teaspoon black pepper
1/2 teaspoon chili flakes (optional, adjust to your spice preference)
Fresh cilantro or spring onions for garnish
Steamed jasmine rice, to serve
Instructions:
Marinate the chicken: In a mixing bowl, combine the sliced chicken with soy sauce, oyster sauce, fish sauce, sugar, black pepper, and chili flakes (if using). Mix well to ensure all the chicken pieces are coated evenly. Let the chicken marinate for about 15-30 minutes.
Toast the cashew nuts: Heat a dry skillet over medium heat. Add the cashew nuts to the skillet and toast them for about 2-3 minutes, stirring frequently until they turn golden brown. Remove the cashew nuts from the skillet and set them aside.
Sauté the chicken: In a large pan or wok, heat the vegetable oil over medium-high heat. Add the minced garlic and sauté for about 30 seconds until fragrant. Then, add the marinated chicken and stir-fry until the chicken is cooked through and slightly browned, about 4-5 minutes.
Add vegetables: Add the sliced onions, red bell pepper, and green bell pepper to the pan with the chicken. Continue stir-frying for another 2-3 minutes until the vegetables are slightly softened but still crunchy.
Incorporate cashew nuts: Toss in the toasted cashew nuts and give everything a good stir to combine.
Adjust seasoning: Taste the dish and adjust the seasoning if needed. You can add more soy sauce or fish sauce according to your taste preference.
Garnish and serve: Remove the pan from heat and garnish the dish with fresh cilantro or chopped spring onions. Serve the sautéed fillet chicken with cashew nuts and bell pepper over steamed jasmine rice.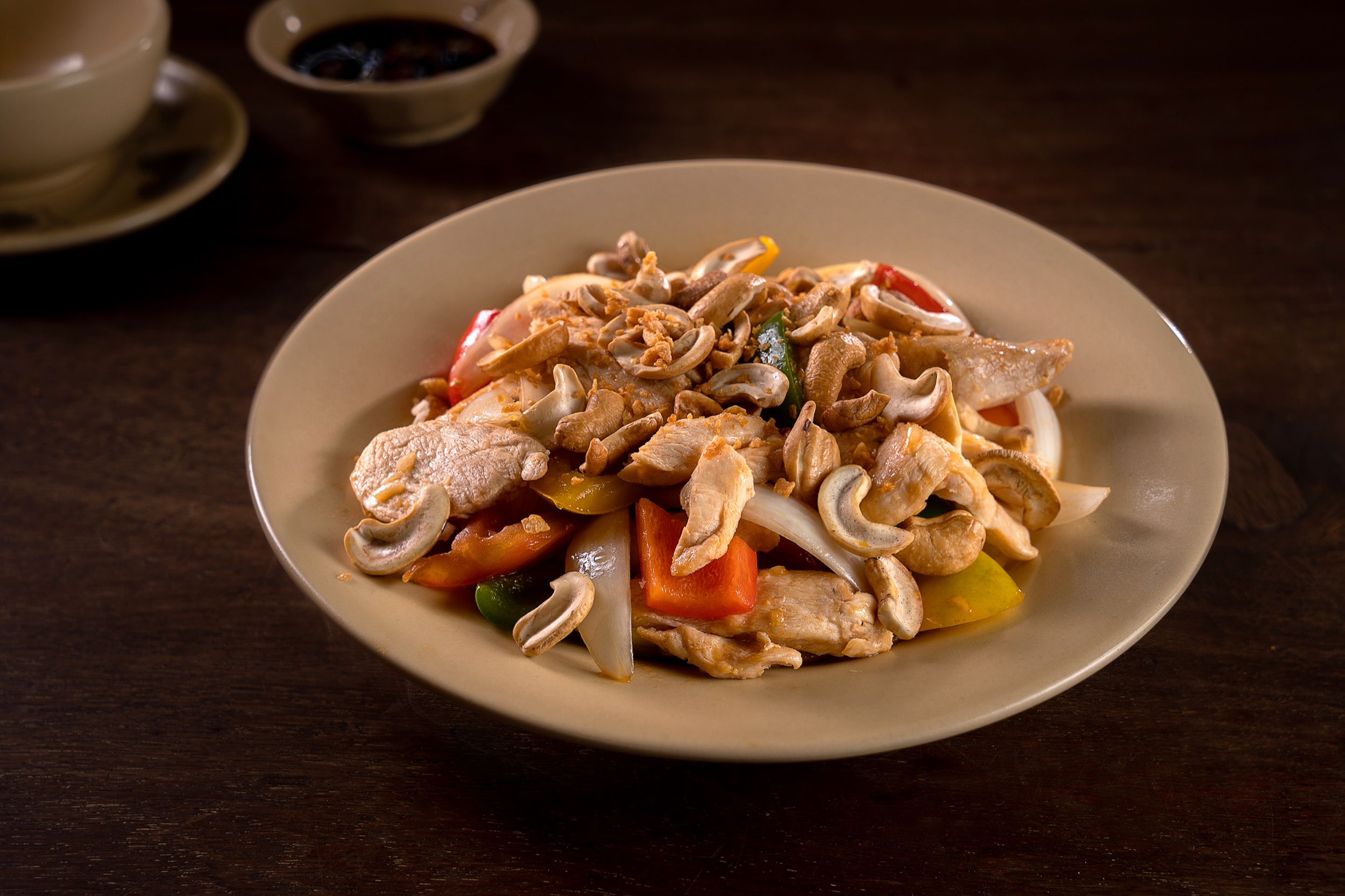 Enjoy your delicious Sautéed Fillet Chicken with Cashew Nuts and Bell Pepper, a perfect blend of flavors and textures inspired by the vibrant Vietnamese cuisine!